STEPHEN COLBERT, JR.. - BALD EAGLE } Haliaeetus leucocephalus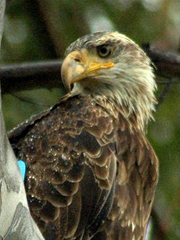 HATCHED: April 17, 2006 at the San Francisco Zoo

KNOWN ALIASES: Junior, Bald Eagle A-46

RANGE: Toured western North America in 2006 -- click here to track Stephen Colbert, Jr.'s movements
STATUS: Bald eagles were formerly listed as Endangered under the Endangered Species Act, but were delisted in 2007. Jr. doesn't appear to be in imminent danger, though the threats listed below are cause for concern for bald eagles everywhere.
THREATS: Habitat loss, contamination from DDT application and lead shot, disturbance, and persecution

BIO: Hatched as part of the San Francisco Zoo's California Bald Eagle Recovery Program, Stephen Colbert, Jr. is a V.I.B. – Very Important Bird. After being released into the unforgiving wilderness of Santa Cruz Island, California when he was less than two months old, Junior grew up forging his own way equipped with nothing but a blue tag, a GPS unit, and his own wits (and talons). Despite his rough-hewn feathery looks and streamwise salmon-catching ways, he is one well-connected fellow. Stephen Colbert (Sr.), host of television's The Colbert Report, takes great pride in his son's achievements and often updates his audience on Junior's adventures – including a controversial six-month sojourn in Canada that tested the strength of their father-son bond.

TRIVIA: Spotted chowing down on junk food at a garbage dump in Vancouver, British Columbia in the winter of 2006. Fittingly, has his own Ben & Jerry's ice cream flavor -- Stephen Jr.'s AmeriFlown Dream -- complete with chocolate fish.